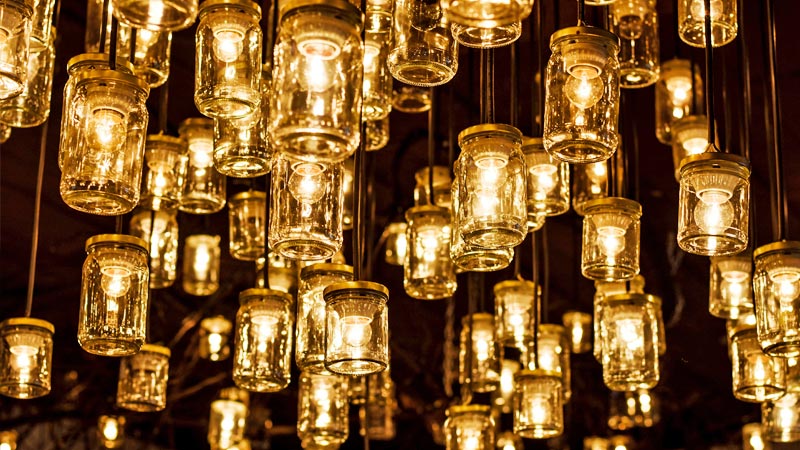 Well, Spring is almost here….yippee!! And for some this means getting on down and giving everything a good old clean. But sometimes it's nice to do more than just clean to give Your Place a fresh feel or an exciting new look.
But we're not talking renovation here. No, no no. That's far too messy and expensive!!! We're talking changing out a few accessories, mixing things up a little with your colours, trying some new art on the walls or adding a new piece of furniture. By making a few small changes, you can transform the look and feel of a room – even just moving the existing furniture around can create whole new flow!!
And the beauty of all this is that there are ways to make changes and inject some new life into drab decor whilst still being mindful of your health, your environment and your budget!! We've shared some of our favourite eco friendly decor ideas below….
1. Choose a LOW (or NO) VOC Paint
Paint fumes are nasty and are one of the top sources of Volatile Organic Compounds (VOCs) in a typical home. The good news is that if you're going for a new wall colour and using paint, there are some eco options available now including LOW VOC and VOC Free ranges from Resene that are approved by Environmental Choice.
For a completely natural choice, The Natural Paint Company based in Christchurch uses ingredients like chalk, clay, plant oils and tree resins to manufacture their entire range of paints. Just like paint used to be made.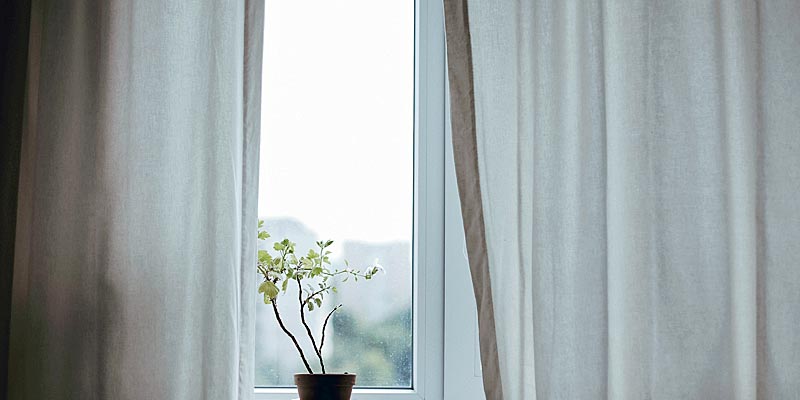 2. Choose a Natural Fabric for your Curtains
Did you know that synthetic fabrics like nylon and polyester are petroleum based and therefore made from a non-renewable, unsustainable resource..?? The manufacturing processes are energy intensive too. It takes more than double the energy to manufacture polyester than it does to make conventional cotton!! They are also often coated with anti-stain treatments and flame retardant chemicals which can contribute to indoor air pollution. And of course, the end results are not bio-degradable and there is no established recycling infrastructure. Not great news for the environment.
So if your revamp includes window dressings, then how about considering hemp, linen, organic cotton or jute…??? These are all natural fibres which are biodegradable and recyclable. We love Heart Ethical who supply natural and ethical cloth, printed using digital technology and water based inks to ensure the process and the end results are as environmentally friendly as possible.
Hemptech is another New Zealand company providing sustainable linen and hemp fabric options.
3. Upcycle to Create Unique Eco Home Decor!!
Adding a new or unique piece of furniture to an empty spot can make a room feel complete – both aesthetically and functionally. Or perhaps you've already got the piece…but it's looking a bit tired or it doesn't suit the rest of the room that you've just updated…!!
One of our top eco friendly decor ideas is to use second hand or pre-loved furniture instead of rushing out to buy brand new. Older pieces are often made by craftsmen in the traditional way from high quality materials – the very reason they are still around; unlike so much of the modern furniture which is mass produced overseas to a lower price point, from cheap materials. Unfortunately, much of this will have a short lifespan, fall to bits and end up in landfill.
Of course, we're not saying all new furniture is rubbish. We can still buy new high quality items today, but they can sometimes be prohibitively expensive. So we're just saying that you have options!!
You do need a little bit of imagination for this one though. It's not always easy to see past the 'old' and create a vision of what your chosen piece could look like and how it could work in your space. But there are lots of ideas and inspiration on the internet if you get stuck.
Firstly if you need to buy a 'new' piece, start your search in local second hand stores including antique shops, charity shops and reclamation yards. You can look online too on your local community buy/sell/swap pages or even on trademe.
There is always a little more effort involved in buying second hand, so make sure you do a bit of homework and don't get ripped off. Ask what the piece is made of. Check for borer or signs of rot. Look at how it's been made and if there are nails and screws, or staples and glue. Give it a wobble and see how sturdy it is. Try and lift it. If it's heavy this is perhaps a sign it's made of a hard wood. And of course…measure it to make sure it will fit into your spot….!!
So, you've got your piece and it just needs a bit of love to make it perfect. If you're after the natural wood look, perhaps just a gentle sanding and oiling would do the trick. Updating an older piece can be as easy as swapping out the handles for something entirely modern and a bit glam.
For the more adventurous (or skilled) amongst us, perhaps you fancy trying your hand at some upholstery..?? If the structure of your chair is sound and it's only the fabric that needs to be replaced, a basic re-upholstery job isn't too difficult. This little chair below was purchased for $35 on trademe and we recovered it using basic tools and some internet tutorials….!!
Or maybe you're even more ambitious and would like to try a paint effect…?? Upcycled and Co. not only make their own range of eco-friendly furniture paints, but they also host workshops teaching furniture painting techniques. Giving your old piece of furniture a paint job can transform it into something interesting, colourful and modern. Check out their site for some upcycling ideas.
4. Lighting
By now, we should all be moving towards LED light bulbs or at the very least, energy efficient CFL bulbs. But that's just the bulbs….what about the light fixture or the lampshade..??
It's pretty hard to source truly eco-friendly and sustainable light fittings, but if you can find them, materials like wood, glass, copper or stainless steel that can be recycled are good choices. Etico have a beautiful, elegant pendant style 'shade' made from oxidised steel and mango wood, ethically handmade in India. Trade Aid also offer a number of shade options made from natural materials including paper, rope and bamboo.
If you're a handy type, there are some amazing ideas on the internet for creating your own light fitting using glass jars or bottles like in the image at the top of this post. Some of them could easily take pride of place in your hallway whilst others are a more rustic outdoor lantern style; there's lots to inspire you. Check out this tutorial which shows you how to make a mason jar chandelier.
5. Soft Furnishings
Cushions and throws can add pops of colour, texture and a touch of luxury to your room. We recommend choosing high quality sustainable, natural fabrics wherever possible. This is not always the cheapest option but your investment should reward you with a long lasting, beautiful item that will complement your home.
This gorgeous cushion from Pip Pottage Designs (pictured above) is a great example of an eco friendly home decor accessory. It's handmade here in New Zealand by a small business who puts real thought and effort into ensuring their products have a low environmental footprint whilst still being super stylish, practical and high quality. The bright fabric on the front of the cushion is a polyester canvas made from 60% recycled plastic bags and printed with low impact dyes, and the reverse is an undyed blend of hemp and yak wool. And more good news…there are six colours to choose from!!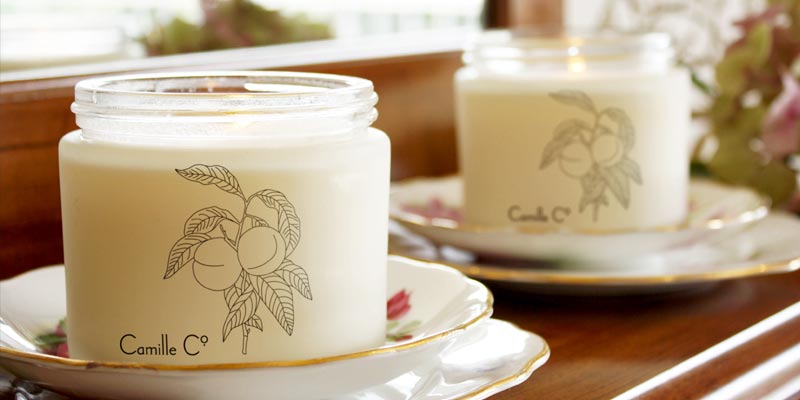 6.Eco Home Fragrance
Making your room and your home smell nice can lift your spirits and make Your Place feel more welcoming. You can choose what sort of mood you'd like to create to suit the room, your decor or the occasion; relaxing, uplifting, fresh, cosy…the choices are endless!!
But first, a few words of warning…. Try to avoid candles made from paraffin because they don't burn cleanly and give off tiny soot particles containing acetone, benzene and toluene – a bit like the exhaust fumes of a diesel engine.
Aerosol air freshener sprays, plug-in fragrance units and gel blocks, which are readily available at the supermarket contain an array of chemicals which might include phthalates (a hormone disrupter) and formaldehyde, naphthalene and p-dichlorobenzene (all carcinogens). There are nicer ways to make your room smell good…!!
For home fragrance we recommend choosing an essential oil reed diffuser or high quality candle (preferably sustainably sourced soy or beeswax). Some candles come in beautiful vessels too, like the ones shown above from Camille Co. so they are a good looking accessory in their own right whilst they are on display and can be repurposed when the candle is finished burning.
You'll find a huge choice of eco fragrance options in our Candles & Home Fragrance category.
7. Stylish Storage
When styling your space, look around and see what's already 'on display'. The chances are that there are some things on show that you'd really rather not see. Keys, pens and pencils, hair grips and hair ties (if there are any girls in the house), remotes…. the list will vary depending on what room your looking into.
But without investing in a whole new piece of furniture to store these pesky things that keep showing up and being left around, or worse, stuffing them in to an already overfull drawer…why not create a funky storage solution that looks great whilst hiding all these nick nacks..??
Stash bags, baskets, or bowls can look lovely on a sideboard, hall table or chest of drawers and are another one of our top eco friendly decor ideas. In our house, we have a few 'stash' solutions in every room…
In the family room we have a couple of baskets made of a woven seagrass that hide hairbrushes, handcreams and remotes. On the hall table we have a beautiful walnut bowl to keep all our keys neat, and we have various re-purposed boxes and baskets in bedrooms for small toys, torches, creams and of course….hair accessories….!!
And whilst these eco friendly storage solutions are functional and provide a great place to 'stash' all the stuff that doesn't have another home or that you want to be 'put away' but also kept handy, they can also contribute to the look and feel of your room too. There are lots to choose from whether you're after playful bright colours, or more muted hessian tones. You can find inspiration and ideas by looking at our collection of Eco Home Storage & Organisers.
8. Shop Around to Find Eco Friendly Decor Ideas
Uniqueness and the story behind an object can only add to its charm. Something created by hand will always be slightly unique, because however good someone is at their craft, perfect uniformity is difficult to achieve!!
So, next time you are looking for an accessory, maybe think beyond the department stores and chain shops. Instead, try local galleries or charities that specialise in craft or art. There is a small gallery in Tauranga that's part of a charitable trust. The clients are disabled and learn pottery as part of their therapy. There are some really quirky and interesting pieces for sale and all the money goes back into the centre.
Trade Aid is a bigger organisation and whilst it could be described as a chain store, its focus is on ethical and fair trade practices and making a difference to communities and producers who have been economically disadvantaged by the conventional trading system.
Their stores are treasure troves of interesting ethnic goods for all areas of the home and include rugs, lamp shades, bedding, cushions and vases.
So…there it is. Some helpful eco friendly decor ideas for you to consider next time you're planning a room makeover that won't cost the earth.
We'd love to hear from you if you've got anything to add or have experience sourcing sustainable home furnishings!!