About

Camille Co.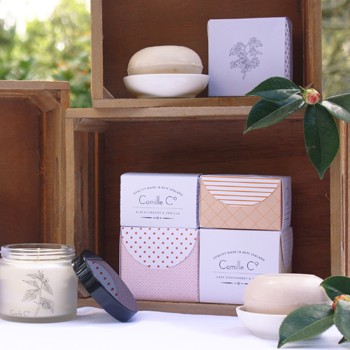 These products are lovingly crafted for people who appreciate beautiful design, who care for our environment, & who enjoy taking the time to relax & unwind. Our product formulas are long-lasting & our packaging is thoughtfully designed to reduce waste. Camille Co. encourages customers to do more with less.
Our Core Values
We live in one of the most beautiful countries on this planet and Camille Co. is committed to the preservation of it. Camille Co. strives to reduce waste & resource consumption through research, design & education. We want to keep our land, water & air clear of the harmful waste which could destroy our natural environment for future generations.
Camille Co. ensures the use of renewable sources & sustainable ingredients wherever possible to create our products.
• Our candles are made from natural soy wax (a vegetable crop) which is an ecologically friendly, sustainable, safer and renewable alternative to paraffin (by-product of petroleum).
• We use sustainable-certified palm oil in our soaps instead of animal fats, which ensures our soaps are vegan & cruelty free.
• We source our paper and cardboard packaging material from sustainably managed forests.
All our packaging is either designed for re-purpose, derived from post consumer waste, or is 100% recyclable or compostable.
Camille Co. products are made in New Zealand. Camille Co. uses ethically sourced materials & premium ingredients from only trusted, fair & reliable sources. Our products are handmade locally in small batches. We have strong relationships and open lines of communication with our local suppliers to ensure the quality of our products is of the highest standard.