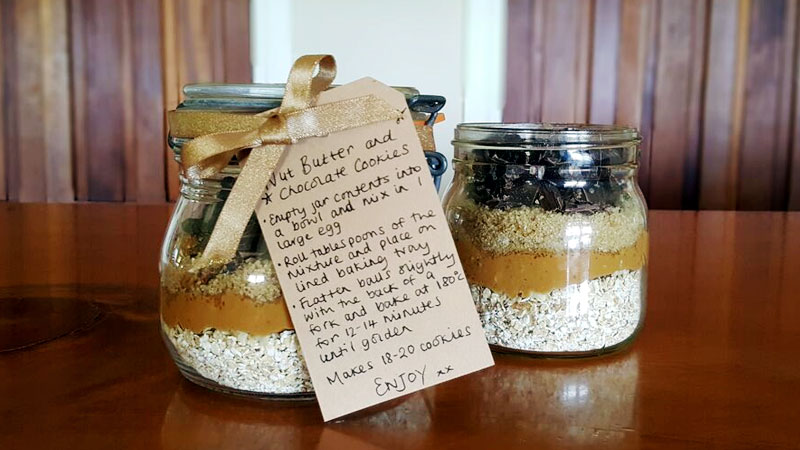 I love to give homemade gifts and I'm always on the hunt for new ideas to try!! I've seen a lot of 'jar-mixes' around this year, and they look fantastic but they can be quite pricey. So, I thought I could make my own…
The idea of these 'pre-mixes' is, that you gift someone a pretty jar of dry ingredients so all they have to do is add some wet ingredients (like egg, coconut oil, or butter), form cookies and bake them. The best thing is, if you make them yourself, you can tailor the recipe to the recipient (e.g. make them gluten free or vegan), and you can use any jars you like which can be decorated with ribbons and labels after filling them.
I searched high and low for a really easy recipe because it was important to me to find a cookie mix that didn't make lots of work for the person I gave it to. Creaming butter and sugar, lots of chopping/processing and expensive/weird ingredients were out!!
In the end, I combined a few of my favourites and came up with these Peanut Butter Choc Chip cookies. They are so easy to make, my 9 year old did them all on her own from the cookie in a jar mix we were testing. So…here it is….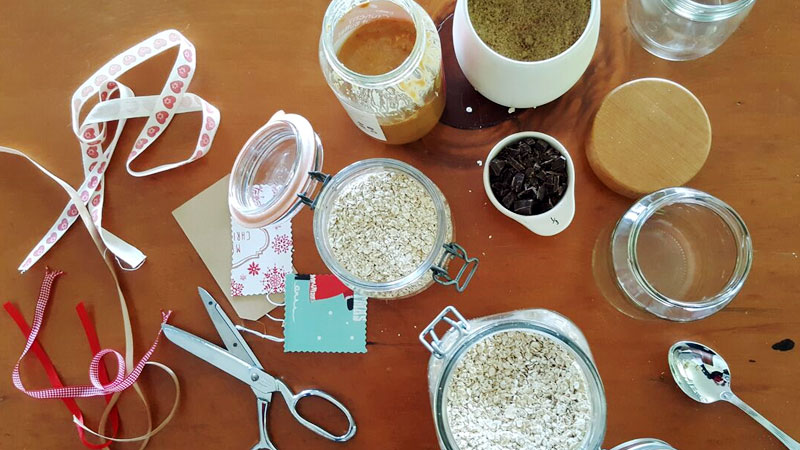 Ingredients for the Cookie Mix in a Jar
½ cup oats
½ cup peanut butter (but you can use any nut butter)
½ cup brown sugar (I used raw sugar)
⅓ cup chocolate chips, chopped chocolate or raisins (I used Whittakers 72% Dark which is Fairtrade)
One quantity of the recipe is a good amount to almost fill one 500ml/2 cup size jar and makes 12-14 cookies. Each quantity requires only 1 egg to be added to it by whoever you give it to. Of course you could double it if you wanted to give a bigger jar!! Fill the jars with the ingredients shown above, layering them in the order listed. Shake a little after each addition to get an even layer that spreads to the sides of the jar.
Attach ribbons, labels and decorate your gift as you like but make sure you include baking directions as shown below.
Baking Instructions for Cookie Mix in a Jar
Empty jar contents into a bowl and mix with 1 large egg
Roll tablespoons of the mixture into balls and place on a lined baking tray – you should get 12-14 balls
Flatten balls gently with the back of a fork and bake at 180 for 12-14 minutes until golden
Cool and store in an airtight container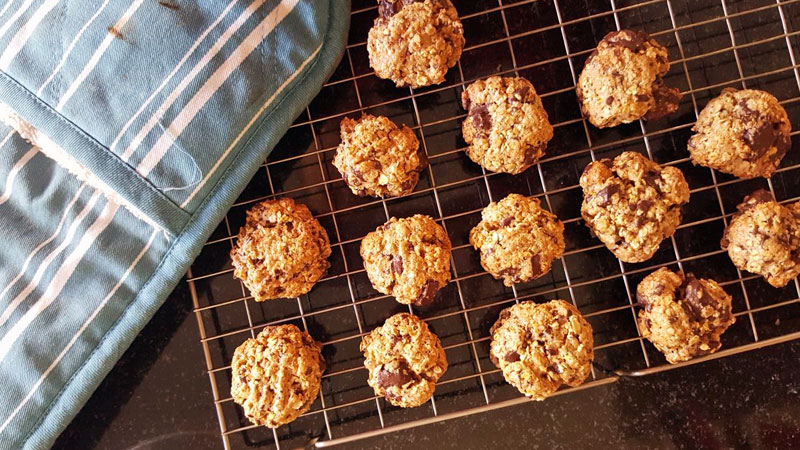 This cookie mix in a jar makes a really great gift for teachers, children who are keen bakers, friends who like to bake but don't have the time or anyone else who likes a good cookie…..!!! ! Check out our blog for more sustainable gift ideas.
And if this isn't your thing or you need a gift in a hurry then take a peak at our website which is full of inspirational gift ideas. Try out our SHOP YOUR WAY page where you can set your own budget, shop by category and select the eco-credentials that are most important to you.