About

Live Simply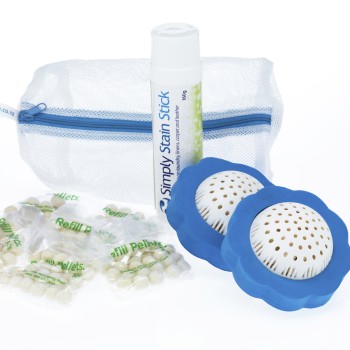 Simply Laundry Kit
Here at Live Simply we offer you a simpler way of washing laundry that's easier on your skin, the environment and your budget!
Our Simply Laundry Kit will wash your clothes without powders or liquids. No white marks on your black clothes anymore – brilliant.
The eco-friendly laundry pellets contain no phosphates, enzymes or optical brighteners that contaminate the waterways. They are also hypoallergenic so really ideal for baby clothes and for anyone who has sensitive skin, eczema, or dermatitis.
While they are being kind to the environment and your skin, their cost effectiveness is being kind to your pocket as well.
With the Simply Laundry Kit, you'll…
Save money
Relieve skin allergies
Gently clean your clothes & linen
Get an eco-friendly wash
Avoid white streaks on dark fabrics
Keep your septic tank healthier
The cleaner, greener and cheaper way to do your laundry.