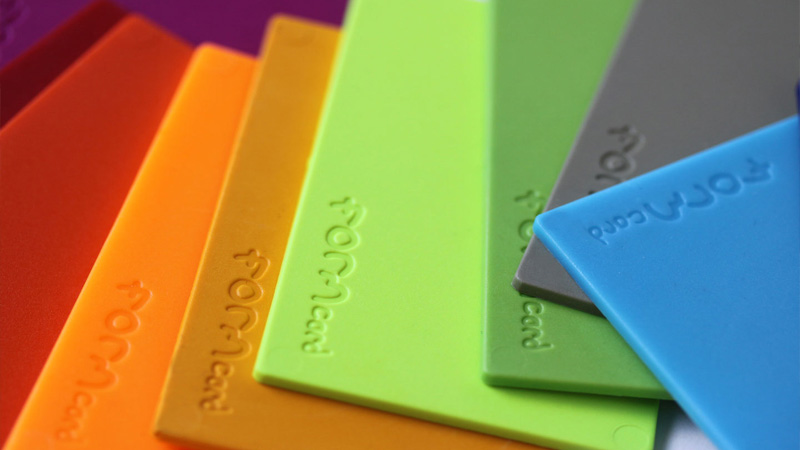 What is FORMcard?
The inventor of this neat little gadget, FORMcard, is London based designer Peter Marigold. His wish is to see those sad, broken plastic spades left neglected in the sandpit get a new life.
The FORMcard is a handy, credit card sized piece of thermoplastic. For the laymen amongst us, thermoplastics are simply plastics that become pliable when heated and then harden again upon cooling.
A Versatile Tool
After working with this material for a number of years, Marigold saw how useful it could be to the man on the street, if only it was presented in a convenient, usable and visually attractive form. He thinks the FORMcard will eventually become an essential in our home tool kits, just like sellotape and blu-tack.
We'll carry one in our wallet, have one in the kitchen drawer, one in the car, and in the camping gear…. And it doesn't degrade in salt water, so yep…the boat too.

How FORMcard Works
The FORMcard needs only a glass of hot water to turn it from a rigid card into a mouldable material – just like playdoh. It can then be made into something new, or used to repair broken objects. Check out our trial where we used a FORMcard to repair a broken mower throttle lever. If you don't like what you've made, remelt and remould!!
At hotter temperatures, the plastic becomes sticky and this is what you need if you want your creation to adhere to other plastics (like if you're fixing a sad spade).
When the plastic sets, it becomes hard and durable so it's strong enough to make basic tools, hooks, handles, bespoke mobile phone holders….You are only limited by your imagination!!

Really?….A Good Plastic?
And yes…it is plastic which is often thought of as a no-no. But it's a bio-plastic made of plant based polymers, so it's biodegradable – you can throw it on the compost and it will start to break down in 6 weeks. It's also food safe (although not recommended for consumption…) and the dyes used to give the vibrant colours it comes in are free of styrenes and hazardous chemicals.
Marigold loves the idea that we'll have a tool to repair and extend the life of things that would otherwise end up in landfill and that we can be creative in finding solutions for those niggly little problems that don't have an 'off the shelf' answer.
Melt, Mould, Mend, Make…and in the spirit of repair and reuse, this is the perfect tool.
Please Note: Unfortunately FORMcards are no longer available on Green Elephant or in New Zealand but they can be purchased from FORMcard in the UK and shipped internationally.