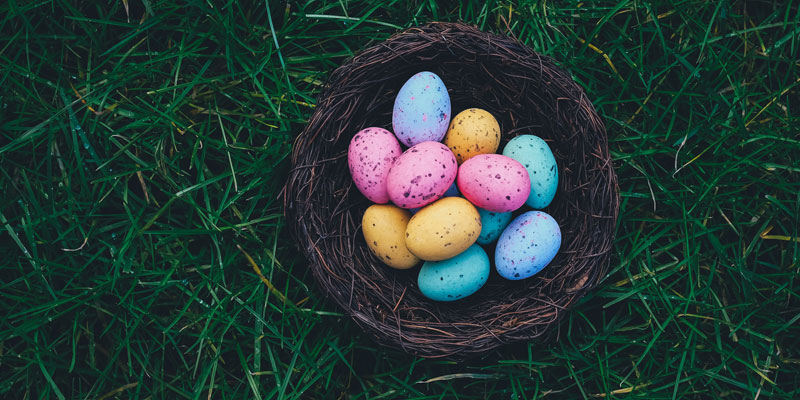 I love Easter. Well… I really love any excuse to celebrate, eat well and spend fun time with the family and for as long as I can remember, that's what we have been doing!! But as with any other celebration, I am always conscious of the waste that can come with it. So, I've put together some eco Easter ideas that are ALL about Easter but less about the waste!! I don't do all of them every year, but we always do some of them and I am finding new ideas every year. So if you have a hot tip, please share it with us via email or on our social pages!!
Bake Your Own Hot Cross Buns
There's not much that can beat the smell of freshly baked hot cross buns wafting through the house. Making your own saves on pesky packaging, and most of the ingredients you can find in bulk stores. So, top marks for those of you that make completely waste-free buns!!
Some recipes I've tried do take a bit of time, but the results are worth it!! Try this one from Chelsea Winter or this one from the Kiwi Country Girl which has fewer steps. For an easier (and tastier) version of the crosses, I like to use plain icing sugar mixed with freshly squeezed orange juice. You can just drizzle this over the buns or go for more formal crosses – either way is delicious….!!! For a more decadent version of Hot Cross Buns, try this Easter Hot Cross Bun Cake from Jordan Rondel; The Caker.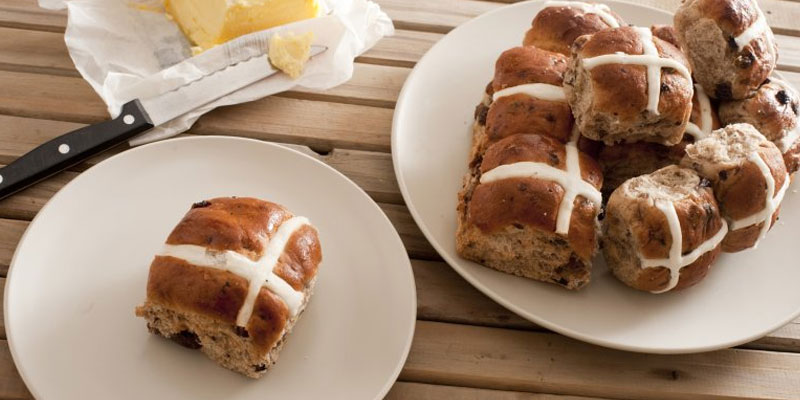 If you'd like to take it even further and create your own Easter Egg Treats, try this epic recipe for Easter Energy Eggs. These are seriously YUM and so easy to make. They do not last long, so consider doubling the quantities on this recipe!!
Choose Eggs with Minimal Packaging
Did you know that aluminium foil can be recycled…?? Just collect it and scrunch into a ball!! Some of the large Easter Eggs come with a huge amount of plastic packaging, so if you can, choose eggs with minimal wrapping – preferably foil that you can recycle!!!
When it comes to the egg hunt, mini eggs are great for a 'clean' indoor hunt (no wrapping). But if you're doing and outdoor version, foil wrapped eggs are a great choice – just collect the foil to add to your ball!! Avoid plastic wrapped treats or eggs if you can.
DIY Decorations
It's always fun decorating the table or making bags or baskets for the children to collect their eggs in….!! Try using bags or baskets you've already got and decorate with ribbon (or not…!!). The important part is of course what will be inside the bag, so don't worry too much about what's on the outside!!
For table decorations, I like this simple idea (pic below). You can use any kind of egg, decorative or edible and these can be personalised too for place settings.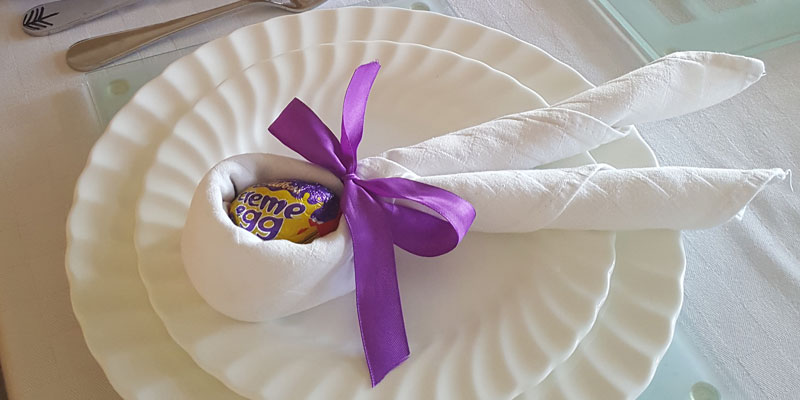 Easter Trees are also a gorgeous way to add colour to your home for Easter. They have been a tradition in Germany and Sweden for centuries but are now popular all over the world. They are usually quite simple and often minimalist which makes it easy to DIY – a perfect Easter eco idea!! This article has a great collection of gorgeous trees and links to some tutorials of you're keen to try making one yourself.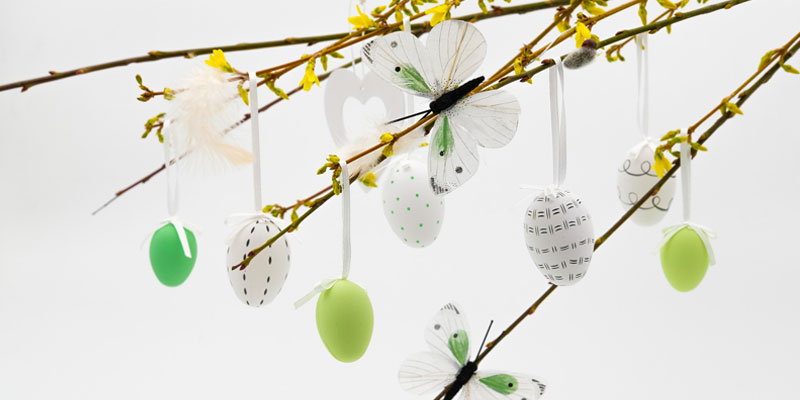 Choose Your Chocolate Wisely
When choosing chocolate, go for Fair Trade or Rainforest Alliance certified if you can. Both of these organisations are working towards similar goals of improving the conditions for cocoa farmers and their communities and protecting the environment. Well known brands including Trade Aid, Wellington Chocolate Factory, Green & Blacks and Whitakkers are all aligned with Fair Trade or Rainforest Alliance across some or all of their range.
Another clanger when it comes to choosing chocolate is palm oil. PLEASE choose chocolate that does not contain any palm oil. If you're unsure about why palm oil is a poor choice, then find out more in our blog about the Orangutan Project.
Use Bulk Stores and Refilleries
Using bulk stores for pantry staples is a great way to reduce your plastic waste, so why not extend this to include Easter treats…??? See if your local store has mini eggs which you can use for decortions or The Hunt….!! Take your own container along for a completely waste free experience. They look so pretty too…..