About

The Green Collective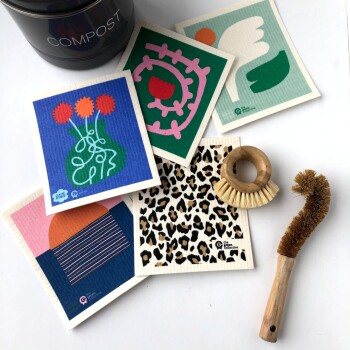 Want to make a difference?
The Green Collective wants to help you  live more sustainably, and have fun doing it.
Produce bags are used on average for 12 mins and then thrown out. Globally, millions are thrown away every day. Have you ever thought that there must be another way? We decided to look at something used every day and improve it, reinvent it.
Introducing…
They stretch to fit up to 3kg of produce and can help you strain, carry, wash, organise, sort, pack, sieve, scrub and sprout!  Strong, durable, machine washable and lightweight.
100% certified organic cotton. Ideal for your wholefood and bulk food items from seeds, flour to grains and pulses. We have designed these bags to last with quality features like french seams, a convenient drawstring cord, and also machine washable.
These bags don't shrink in the wash and are the only bags thick enough to store flour and milled spices.

Our durable, super absorbent and compostable dishcloth. We are the only Swedish Dishcloth who supports emerging local designers and then donates to community groups through our sales.
This clever addition to your kitchen can replace 15 rolls of paper towels in it's lifetime, and is 100% biodegradable.
1. Streak and lint free
2. Super absorbent
3. Machine or dishwasher clean
4. Quick dry – hygienic
5. All natural
6. Biodegradable
7. Compostable
_____________________________________________
"I have just received my produce bags and they look great. Speedy delivery and received in good order. Can't wait to use them next shopping day. They will look so much better than those horrible plastic bags and I will be telling my family and friends where to buy. Thank you" Sandy
_____________________________________________
The ideal gift, and a nudge in a green direction for your friends.
Get your bags in time for the next market, or food shop. Our friendly courier's track & trace service will have your bags to your home in 1-2 working days. If you are buying as a gift we will happily enclose a lovely gift card inside for your special someone. Just email us after your purchase with your choice of words to hello@thegreencollective.co.nz
Now you have a choice. Go on, be good for goodness sake!
______________________________________________
"I think the bags are really useful and really well thought through. They are invaluable in hand luggage on a plane. All the small things gravitate to the bottom of your bag and get tied up in the bigger bits unless you are wide awake and fully functioning. Which I don't want to be, I try to hibernate for the duration of a flight!"  Clare
______________________________________________