About

Seed + Soul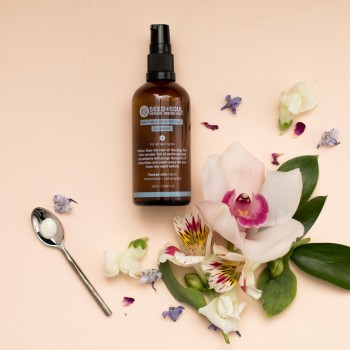 No matter how much we all want to think looks aren't important, having problem skin can really take its toll emotionally – especially for women. Knowing all too well what the pain of that is like, Zahn Brazil and Karen Joe have developed a beautiful range of 100% natural skincare that's safe to use on difficult skin. Seed + Soul is the result of endless experimentation to come up with a face and body range that won't require customers to take a second mortgage, but will nourish skin in the best way possible.

"I've suffered break outs for years," says Karen. "And so often I'd try a new product that would only make it worse! I took oral medication too and it had awful side effects, you couldn't go out in the sun and it would really dry out my skin too. It was so frustrating." Zahn's eczema was equally stressful. "At times it would be so red and raw and everything I put on my skin would just sting, even wearing stiff fabrics was a no-go. I felt so self-conscious about it and I shelled out endless money on the latest products only to find they would exacerbate it further. It was so disheartening. As women, we all feel better when we look our best and I felt like I'd always be embarrassed of my skin."

Frustration lead the former work colleagues to start researching and create their own formulations. "We wanted the products to do the job, but also be full of healing oils to nourish the skin; we also wanted them to smell nice to lift the spirits of our customers when wearing them. Zahn is a graphic designer and did the branding with Karen's help on the cheeky wording. Their website reads "Our bodies are a bit finicky, collectively we suffer from more issues than Vogue so we created unique blends of plant-derived, paraben free ingredients and hand-picked essential oils. Our products work with your mind, body and soul to counteract the toxins we come into contact with every day." Their products are also free of sulphates and silicone, and they have never even thought of testing on animals.

The products all have quirky fun names like Slick Rick Cleansing Balm, Calm the Face Down moisturiser and Turn Back Time face tonic. The tonic has been especially popular with women with mature skin, who really notice a difference when they run out. "We have clients calling us desperately to ask if we can post it out express," says Zahn. "It's so great to get that feedback and good to know some beauty salons are now using our products too." Karen herself is thrilled because after using their own cleanser, toner and moisturiser she no longer has to take any oral medication to control her acne.

The duo are committed to buying ingredients and packaging from local businesses  to support local. They have made their range as affordable as possible so 'people like them' can purchase – not only those with high disposable incomes.