About

Pepper and Pearls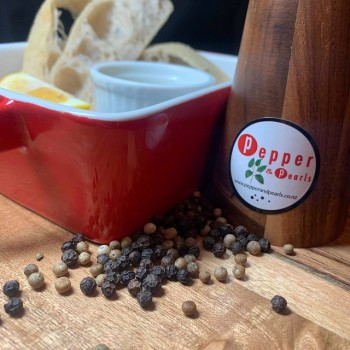 Pepper and Pearls
NOTE due to COVID we are currently having extreme difficulty getting the Pepper shipped into the country, we will notify our subscribers as soon as the next shipment arrives.
Pepper and Pearls.. (Kampot Pepper New Zealand supplier) is an ethical business trading in high quality, exotic, fine food which enjoys a partnership with local farmers in Kampot, Cambodia.
Pepper and Pearls ( formally Jonny Ocean Trading)  is committed to bringing more jobs and prosperity to the local farmers, ensuring they receive a fair and equitable income to enhance their amazing farming skills. Every bag of pepper can be traced back to the farm, farmer, and batch produced.
Trading with P & P means the money stays in their community to help improve their education and standard of living.
Cambodia's famous Kampot Pepper, secreted away during the murderous Pol Pot regime, is internationally recognised by chefs as the 'champagne' of peppers.
It is one of the world's most highly considered spices. It's not only organic it also has an internationally recognised ECOCERT certificate.
Kampot Pepper is geologically certified* (protected geographical indication).  The local area's microclimate offers mineral-rich soil and frequent rainfall. The ancient harvesting and processing methods have been handed down through the generations and add to the amazing aromatic flavors.
Pepper and Pearls ensure the highest standards of cleaning, sorting, grading and packing processes. The production process surpasses the international food safety standards required for overseas markets.
Our mission… Pepper and Pearls is a New Zealand based, a family business established in 2015. Owners,  Freya Horder loves to travel in Southeast Asia and in the last few years, Cambodia has become a favorite destination. She loves the country and the hardworking people.
"We hope you enjoy this rare special spice as much as we do… and also the warm fuzzy feeling of knowing you are helping our third world families."
Freya also loves Pearls and decided to import the most beautiful ,affordable pearl jewellery from Vietnam , however these must be tried on to get the perfect match – so are only available at her markets or by appointment – checkout the facebook page https://www.facebook.com/kampotpeppernz/   to see where she is next. 🙂