About

Pampered Pooch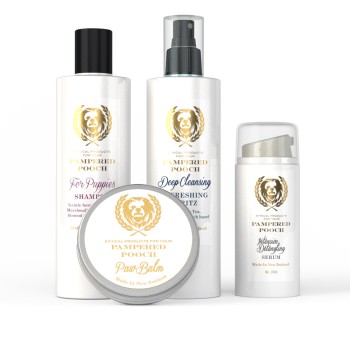 Our Story
All our lives changed when we got Nem, the adorable Tibetian Spaniel. Nem's name was and abbreviation for Nyema which translates to Sun in Tibetian.
He lived up to his name as he was a ray of sunshine and brought a lot of joy to our lives. Nem had sensitive skin but we never found a product that really healed and soothed his skin. Because we care deeply about quality well-being products for dogs we have been unable to settle for what is available on the market and decided to produce our own. Nem is the inspiration for our business and our logo is a stylised likeness.
Our Vision
It is our truest wish to improve the lives and well-being of dogs, through our products and our support. We wish to enable responsible dog owners to be able to demonstrate the love they have for their dogs through well-being and grooming. Quality is essential to us in all terms, from the ingredients we select to go into our products to the way we manufacture and the people we choose to partner with. We have exceptional standards because we care about animals and want what is best for them and their health. We love what we do, we love people loving our products and most importantly, we love knowing that dogs love feeling better. We are a family who loves working together to help make a difference in dog's lives.
Product Development
Our products are formulated by our daughter Sarah who has a MSc and several years experience working in Product Development within the food and personal care/ cosmetics industries.
Paying It Forward
We also believe in paying it forward by donating 10% of our profits to charities to help those dogs who are not fortunate to be part of a loving home.