About

OurEco Home NZ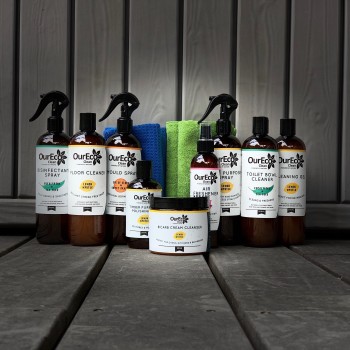 Ultimate Pack - Powered by Nature
Simply S & S Limited are proud to be the Distributor of OurEco Home range of cleaning products which we believe will revolutionise the way you can clean your home without the chemicals that dominate the market today.
Kym Collins the founder of OurEco Home explains:
Creating cleaning products for my own home that worked well and weren't harmful to my family or the environment was important to me. I wanted a way to rid my home of harmful chemicals and found that going back to basics was actually the way forward.
Researching traditional cleaning methods resulted in the development of 9 products that clean every surface in your home. Using proven ingredients like BiCarbonate Soda, Citric Acid, Soap Flakes, and Essential oils such as "Lemon Myrtle" (the environment's very own antibacterial weapon) my cleaning products will naturally clean your home with amazing ease.
Find out how easy it is to have a sparking home that smells great and remove the nasty chemicals forever.
So join the revolution and make your home an 'OurEco Home'
Thank you for making the change and Happy Cleaning,  
Kind Regards,  
Kym