About

Ama Balm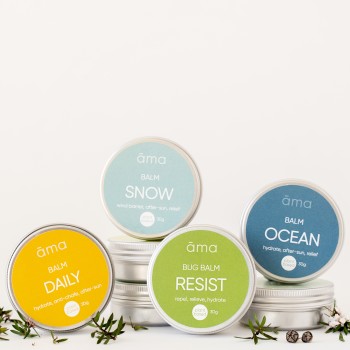 Balms for every adventure!
The Ama Life is lived with energy and gratitude, outdoors in the natural world. Our products are made with pure, natural ingredients, developed without cruelty, and brought to you in zero waste packaging and courier bags. We aim to bring you deeply nourishing skin, body & hair care that cares for you; and causes no harm.
Gentle on the world; powerfully nourishing for skin, hair & body.
If you're like us and your favourite things to do involve being outside, you're in the right place .
We like spending our time amongst nature: hiking, biking, surfing, kiting, snowboarding…just to name a few. While these activities provide endless amounts of fun, they also mean that our skin is exposed to the often harsh elements for hours at a time, leaving it feeling (and looking!) weathered, sunburnt, and tired.
We've loaded Ama Balm with natural ingredients, kept it simple and 100% Nz Made and 100% NZ tried and tested.
.