About

7th Cloud Soaps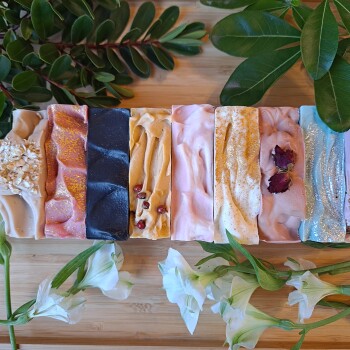 Natural Luxury
We are a small family business located in South Canterbury New Zealand. Natural cold processed soaps are our passion.
We make moisturizing Olive Oil Soaps for everyone and every skin type, including sensitive skin, skin with eczema & acne.
 All 7th Cloud Soaps are handmade in small batches in NZ. We
use traditional cold process method, our soaps are then left to cure for 4-6 weeks. Then they are hand cut and hand packaged.
Olive Oil soap is considered to be one of the best treatments for dry skin as its moisturizing properties help to soften the skin texture, hold moisture and nourish it without interfering with natural skin function.
Coconut cream is rich and super-moisturizing, provides  deep cleaning & removing impurities. Ideal for dry skin.
Goat milk is rich in fatty acids that help support a healthy skin
barrier to keep skin nourished and moisturized. Provides gentle
exfoliation and helps to treat skin with acne
Calendula promotes skin tissue repair and helps to regenerate cells, helps to heal Eczema and sooth dry, chapped skin. Calendula is antiseptic and antibacterial, calm and heals skin with acne.
Oat Milk is nourishing and moisturizing, provides gentle exfoliation and rejuvenation, minimizes pores, improves skin tone, also can help to slow aging.
Activated Charcoal for deep cleansing, detoxification, smoothing and tightening pores.
Bentonite Clay for healing Eczema, evening skin tone and detoxifying skin. Bentonite Clay is composed of aged volcanic ash. It is unique in that it has the ability to produce an "electrical charge" when hydrated. When mixed with water, its electrical components change, allowing it to absorb toxins, heavy metals, chemicals and other impurities from the skin.
Brazilian Green & Rose Clay provides great antioxidants, detox and anti aging properties.
Honey is natural moisturizer, contains antioxidants, delays aging; helps to heal and brighten skin, giving skin a natural glow and beautiful tone.
Beeswax softens the skin and gives soap a silky feel