A fashion item or just for groceries…??
Well, let's take a look at what tote bags actually are and where they came from. The dictionary definition states that a tote bag is 'a large handbag or shopping bag, usually with double handles and an open top'. The term 'tote' or tate was used all the way back in the 17th century meaning 'to carry' but was not used to refer to a kind of bag until much later.
So who invented Tote Bags and why..??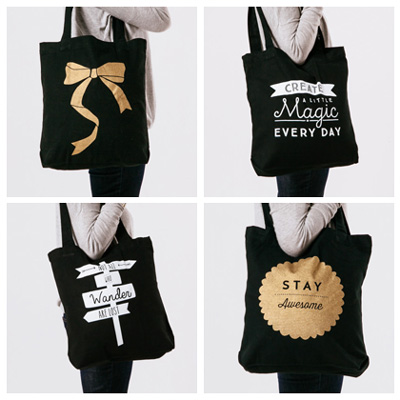 It seems that tote bags as we know them started life back in the 40's when L. L. Bean launched their first tote, the 'Boat Bag'. Some people credit L. L. Bean with the invention of the tote – but ….who is L. L Bean…??!!
L.L. Bean is an American company founded in 1912 by Leon Leonwood Bean selling a single product – a hunting boot. They were primarily an outdoors type brand selling camping equipment and clothing, and in 1944 released the 'Boat and Tote Bag' which was billed as a bag made of builders canvas for 'hauling ice from car to ice chest'. The bag is still one of L.L.Bean's most iconic products. The classic tote design is a roomy bag made from a sturdy fabric. Tote bags have two handles, sometimes looping around the base of the bag as if in a single length. The bases are often reinforced with leather or some other hardwearing fabric.
The simple yet elegant design of this bag became immensely popular in America as an easier and more comfortable way to carry large items. Tote bags continued to gain fans in the 50s and 60s but it was not until 1990 that they became recognised as a fashion item when Kate Spade (fancy fashion designer) started to use one as a 'fashion bag'!!
Which Tote Bag is right for me??
So, there we go, a potted history of the tote bag. Today of course, they come in thousands of shapes and sizes to cope with whatever job you need them to do (Ecobags have an amazing range including the 'totelly' cute design shown at the top).
Larger, more hard wearing totes are great for a weekend away or a trip to the beach whilst fold-away ones are what we need for impromptu purchases or a visit to the farmers market (like these from Pouch Products). And for a bit of cheeky style, you can't go past these ones from Toodles Noodles which are perfect for a lunch date or a trip into town.
Apart from looking great, the best thing about using tote bags is the number of single use plastic versions that we won't be using instead. Did you know that every year, New Zealanders use a whopping 1 billion plastic shopping bags…??? So, if we can reduce this number by taking our totes, then we should all be doing it!!
And….just for fun…If we venture into the Urban Dictionary a Totebag is 'An idiot. Someone who is a jerk or difficult.' We could make reference to Donald Trump right now…but let's not go there!!