Halloween is scary in more ways than one…. Researchers in the UK found that over 2,000 tonnes of waste were created in a single year from 'disposable' Halloween costumes. Wowsers. That is a big number. But don't worry…. there are lots of things you can do to make sure you have an 'Eco Halloween'…!! Check out our top tips:
The Food
No party or celebration is complete without food – including your Eco Halloween party!!
If you're hosting a Halloween party, there are LOTS of fun ideas for scary snacks and treats that you can make yourself!! Carrot eyeballs, banana ghosts, gingerbread skeletons, spider cakes…. Check out our Eco Halloween Board on Pinterest for more spooky DIY snack ideas.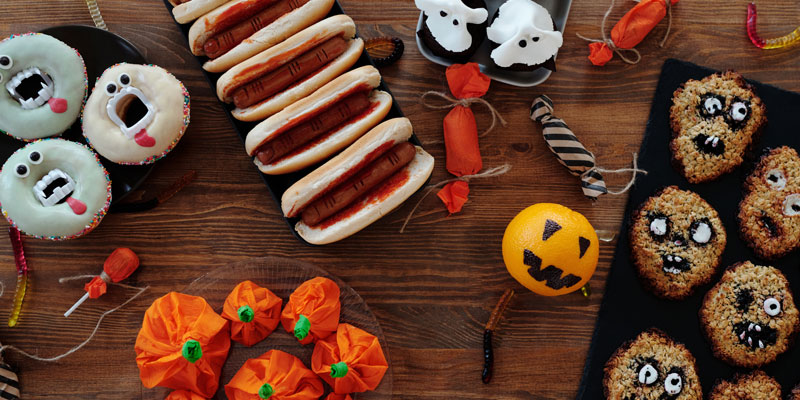 The Decorations
I don't think you can go past a well carved pumpkin for a real Halloween effect…!! Turn off the lights, pull the curtains and put a small tea light inside your carved pumpkin for maximum spook.
If you are up for a bit of carving this year, please do not disgard what you carve out!! Big chunks of pumpkin are great simply roasted with oil and seasoning for an easy vegetable side. It might be a bit shredded, but that's OK too. Shred it a bit more and add to muffins or a banana loaf for extra goodness. If this sounds too much like hard work, compost it or feed it to your dog or chickens, rather then throwing your poor pumpkin waste in the bin…..!!
The Costumes
Costumes don't have to be fancy. See what you have in the fabric stash or op shop pile before heading out to buy something new. A white sheet makes a great last minute ghost outfit, or try 'altering' some old clothes like we did in the picture below for a great zombie costume!! These clothes were not good enough to pass on to anyone having been worn to death already…(!!!) so a little shredding and red paint made a great outfit.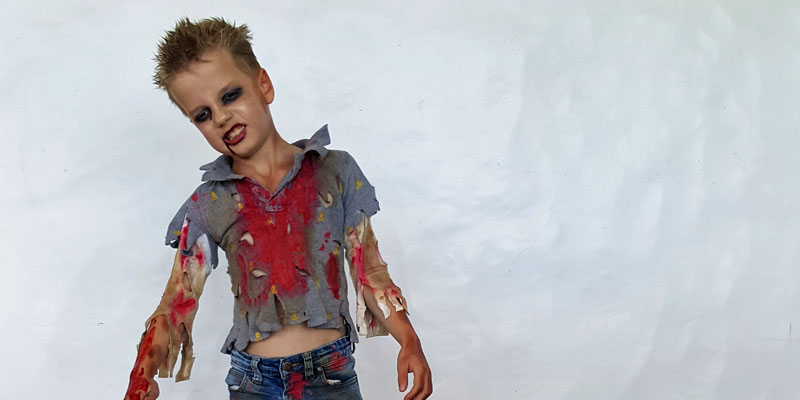 If you do 'have to' buy something new, pick a few items that you can re-use again and again and that will go with different costumes. Think accessories or masks – they also work as the kids get bigger so they won't grow out of them!!!
The Make-Up
Jazz up any costume with some scary make-up!!!
If you're upcycling or reusing a costume, or not even wearing a costume… make-up can really rev up your look. You can achieve a stunning overall effect with a very 'normal' outfit, just by adding some amazing make-up.
Day of the Dead style make-up is really popular if you're feeling confident with the black pencils and have plenty of white face paint, or stick with some blood (red lipstick) and dark eyes for a zombie effect. Make sure to use eco friendly face paints if you can!!
And when you need to say goodbye to the zombie…. oil cleansers are great for removing even the heaviest make-up. They claim to 'melt' it and it sounds bizarre but it's true!! Try this Calendula & Frankincense Cleansing Oil from Hayley Benseman or this one with Bergamot and Ylang Ylang from Seed & Soul.
The Treats
This is a tough one. What with all the concerns around hygiene these days (and rightly so), a big bowl of individually wrapped sweets can feel like the easiest and safest option. But if you can't stand the thought of all those little plastic wrappers going in the bin (at best) here are a few ideas you might prefer:
Mini chocolates wrapped in foil
Crayons or Halloween themed pencils
Homemade cookies or biscuits (not individually wrapped but hopefully safe enough…??)
Spooky erasers
A bowl full of apples labelled "Poison Apples"….!!
For more low waste ideas on Halloween costumes, decorations, food, craft for the kids AND MORE…. head to our Eco Halloween Pinterest Board.