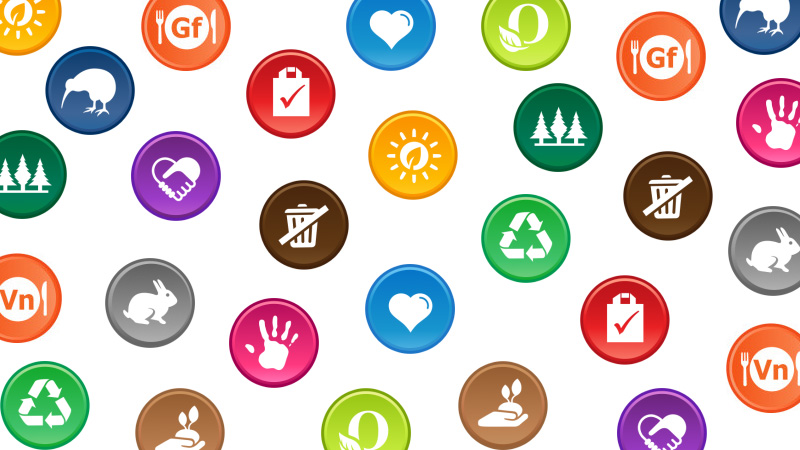 Why do we need Eco badges?
So we've all heard of the term Greenwashing…?? This is a tactic used by companies to convince us (the consumer) that their product, business or service is good for the environment when actually it might not be…. It can be very subtle and cleverly done making it difficult for us to identify products and businesses that are genuinely more environmentally conscious or sustainable.
Transparency is important to us
When we were building and designing Green Elephant, it was important to us that we demonstrated our commitment to being authentic and transparent in everything that we do. We want customers to feel comfortable and confident when they shop with us, so we've made it easy to see at a glance, or in more detail why the product they are looking at is better and a more sustainable, healthy or ethical choice.
And so, our badge system was conceived. Our Eco badges are the little pops of colour that you'll see against all products on our website. Each one represents a different quality that shows exactly how or why the product is better for the environment or you and your family.
Our Vendors are passionate about what they do and are committed to making, creating, producing or sourcing good stuff that's sustainable healthy or ethical. When we are contacted by a Vendor who is interested in joining our marketplace, we look at what pledges they make as a business to reduce their impact on the environment and exactly how their products could help you live a more sustainable, healthy or ethical life.
Why is this good?
Every product on our marketplace has a number of Eco badges assigned to it by the Vendors so you can see at a glance what's good about the goods!! And we know people like details so look for the 'Why is This Good?' tab within the product listing. This is where the Vendors provide further explanation about how the product has earned each of its badges.
Below is the full suite of Eco badges and what they represent. Do you think this is a full list or have you any more sustainable, healthy or ethical qualities in mind that we should be using as a badge..?? If so, we'd love to hear from you!!
To shop for products that carry a particular Eco badge simply click on the badge you are interested in.
Animal FriendlyBy choosing these products you are saying "No" to animal testing and "Yes" to cruelty free.
Buy Me OnceChoose a good quality, well made item and it should last you for many years. It might be a little bit of an 'investment' purchase but that's the point. You will only ever need one of these. No more throw away, breakable purchases that end up in landfill. Just high quality, sustainable products that were made to last.
CompostableThese products can be put on the compost at the end of their useful life. They'll break down just like other compostable vegetation!! Choosing a compostable product means you have nothing to throw in the bin or put into landfill.
Fairly TradedBy buying Fairly Traded products you are supporting communities in developing countries. Fairtrade certified products carry the official logo of Fairtrade Australia New Zealand or the World Fair Trade Organisation.
Products carrying our Fairly Traded badge have been sourced through partnerships that ensure farmers and workers are protected and rewarded fairly for their work enabling them to build a better future for themselves and their communities.
Forest FriendlyLook after our forests by buying paper, wood or wooden products that have come from trees harvested legally, sustainably and in a way that is respectful of the local communities. Some products may also carry the official Forest Stewardship Council (FSC) logo which certifies that products meet the FSC Principles.
Grow Your OwnThese products will help you fill your table with healthy produce grown in your own backyard. Products that show this Badge will help you get great tasting food from a source you can trust.
HandmadeYou are choosing products that have been individually hand crafted for you rather than mass produced in a factory.
Less Landfill (recyclable or reusable)Buy these products and help divert waste away from landfill. After you have used them, these products can be reused or recycled when their counterparts would have been destined for landfill.
Made in New ZealandWe love to know when a product is made with extra care right here in New Zealand. Choosing to buy New Zealand made products supports local businesses and our communities as well as reducing the need for international shipping.
OrganicWhere you see products with an Organic Badge you can be sure you are making a good choice. Organic products are grown without using synthetic hormones, antibiotics, pesticides or fertilisers. Processing is designed to maintain the organic integrity and natural goodness of the product with minimal use of approved additives. Organic standards are guaranteed and certified by a number of organisations including the Global Organic Textile Working Group, BioGro New Zealand and AsureQuality.
Pay It ForwardBy buying a product with this badge, you're doing a bit of 'extra' good. Maybe some of your money will be going to support a charity, or maybe for every product you buy, a tree will be planted. These are just some of the ways our Vendors 'Pay It Forward' when you buy from them.
Positive PackagingYou can clearly see which of our Vendors have taken the time to ensure that their product packaging is kept to a minimum, is made of recycled materials or can be easily recycled after use.
Pure and SafeTreat yourself to something natural and kind. These products do not contain harmful chemicals or toxins like BPA, PVC, lead, pthalates, parabens, SLSs, herbicides, fungicides or pesticides. Food items displaying this badge include only those ingredients that need to be there, as nature intended.
Recycled/upcycledYou are helping to save some of our resources for future generations by buying products that have been made from waste or useless materials that would otherwise have ended up in the rubbish.
Smart EnergySave fossil fuels by selecting products that are powered by alternative, renewable energy sources, use less energy to run or have been manufactured using low energy techniques.
Speciality DietLook out for this badge to identify products that meet your particular dietary needs. The letters on the badge represent each diet – we currently have Vegetarian (V), Vegan (Vn), Dairy free (Df), Gluten free (Gf), Paleo (P), Kosher (K) and Low Sugar (S).
Water WiseYou can help improve water quality or conserve water by picking products displaying the Water Wise Badge.