Search for an Anzac Biscuit recipe and you'll get a lot of results….!! Most home bakers will have their own favourite recipe but sometimes it can pay to do a bit of research.
INTERESTING FACT: The Department of Veterans' Affairs has a series of rules and regulations about what an authentic Anzac Biscuit is.
Anzac Biscuits approved for commercial production and sale must be near to the accepted standard. They must be referred to as 'biscuits' or 'slices' and are definitely not allowed to be called Anzac Cookies. If you want to add extras like chocolate chips or cranberries, you can…. but, officially, you can't call them Anzac Biscuits….!!!
Most Anzac Biscuit recipes I came across were very similar and contained the standard mix of melted butter, golden syrup and sugar, combined with baking soda, flour, coconut and oats. And it's no wonder Anzacs are a favourite in households everywhere. The ingredients are readily accessible and cheap and the Anzac Biscuit recipe is very easy – a great one for kids!!
Coconut can be a bit of a divider…. If you have someone in your household that's not a fan (I do) just substitute the coconut for more oats. I used 1C rolled oats and 1C jumbo oats and my biscuits came out a treat.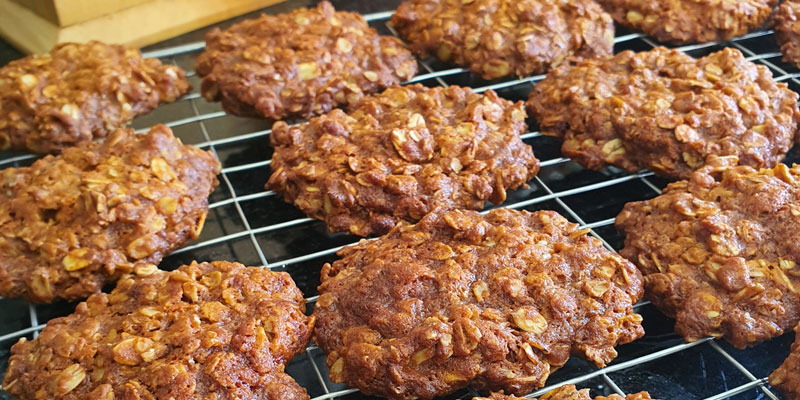 The other 'Great Debate' when it comes to Anzacs is, should they be crispy or chewy…???!! This is all down to personal preference. I'm a fan of thicker, chewier biscuits. To get this kind of result, just pile your mixture higher and bake for less time. The recipe below was good if you like a more chewy biscuit.
Ingredients
125g Butter
2 Tbsp Golden Syrup
130g Brown Sugar
1tsp Baking Soda
2tbsp Boiling Water
150g (1C) Plain Flour
90g (1C) Rolled Oats
75g (1C) Coconut Threads
Method
Preheat the oven to 160°c and line 2 baking trays.
Melt the butter, golden syrup and sugar together in a large pan.
When the sugar has dissolved and the mixture is smooth, mix the baking soda with the boiling water (it will fizz…) and stir into the butter mixture.
Add the flour, coconut and oats and combine thoroughly.
Place heaped tablespoons of the mixture onto your trays. You should have about 20 piles.
Bake in the preheated oven for 16 minutes.
Remove from the oven when your biscuits are golden and flattened slightly.
Carefully transfer to a wire rack to cool completely.
Enjoy with a cup of tea….!!!