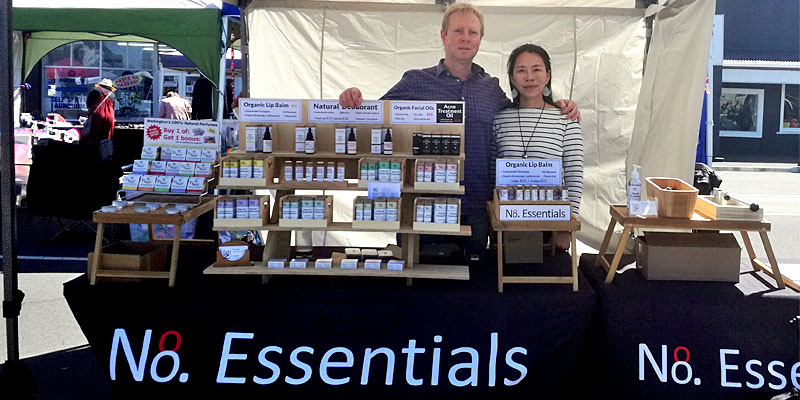 What was the most challenging thing you've had to manage in 2020??
Making sure we had enough raw materials to make our products!! Jewel is from China so we were closely watching the covid situation there from mid-January. Our cardboard tubes are made in China so we ordered more tubes much earlier than we'd wanted to in case there were manufacturing delays. We also bought some of our ingredients much earlier, just in case these supplies were affected too. We stretched our finances doing all this, but we managed to avoid running out of anything (just about!).
How has Covid affected you personally..??
We have been lucky to come out unscathed, using the time to take a relaxed break. The biggest effect was not being able to see a parent in a nearby rest home.
Use five words to describe 2020
Annus horribilis, lessons, compliance, growth
What are you most looking forward to in 2021 (and beyond)??
Business growth; a return to normality; fewer conspiracy theories and people pushing back against actions that are for the greater good of society; oh – and world peace (heck, one can dream).
What is your favourite Christmas memory or tradition?
Ben: I come from a family that isn't particularly Christmassy – my favourite memory would be as a young kid, when the local brass band used to roam the suburb playing carols.
Jewel: Christmas didn't feature when I was growing up in China and later it was purely a commercial thing and just another day. Now that I'm in NZ, I enjoy the exchange of gifts and the warm days where we can have ice cream instead of hot chocolate and tea.
What do you like to eat at Christmas?
We're pretty happy with any food, but our favourites include home-smoked salmon, ham and a roast of some sort, baby potatoes from our friends' garden, trifle and cherries, and a selection of wines and craft beers. And even at Christmas, traditional Chinese dishes are ever-present.
Who do you normally spend Christmas with and is there anyone you will be missing this year due to covid?
We sometimes spend it with family, but usually we'll end up in Eketahuna with friends!!
What is your most popular (and/or your favourite) Christmas product and why?
Lip balms!! They make a fantastic stocking filler, and probably don't have the potential to "offend" like giving someone a deodorant does (even if it works really well and is plastic-free!). Socks and undies, anyone?
What's your top tip to help people that want to support small Kiwi businesses this year..??
We're in your neighbourhood, in the town you just drove through, and in the town your best friend came from. We're part of your community; part of your society. There are small Kiwi businesses all around you in almost every category of commerce and supporting us helps to keep our whole economy running.
What can customers expect when they shop with YOU (versus a high street chain store)…??
Personal service with flexibility to suit your needs. We know our products and can help work out what will work for you.
Ben and Jewel make an awesome team!! They are regulars at their local markets down in Wellington and they love nothing better than meeting their customers face to face for a good yarn about natural deodorants. But if you're not in Wellington, then Green Elephant is the next best thing. Ben sends a personal message to all his customers and if you've got any questions at all, he will be only too happy to chat; he's quite the character!!!
To celebrate shopping local and supporting small businesses, we're delighted to have this gorgeous set of No.8 Essentials goodies to give away to one lucky person; it could be you…..!!! Head to our giveaway page to enter….. Good luck!!! Thanks so much to Ben and Jewel for sharing and donating this awesome prize….!!