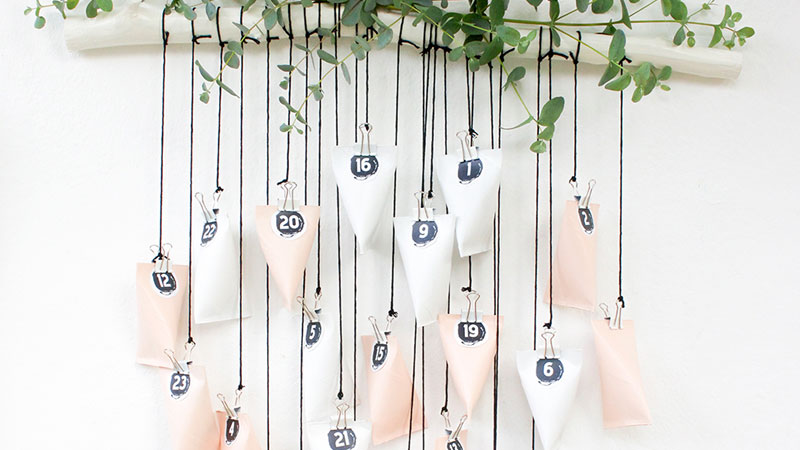 There are only EIGHT sleeps until advent and I'm betting many of you haven't thought about an advent calendar yet…!! For the last few years, I have scrabbled around on the 1st December while the kids are at school putting together this envelope advent calendar. Don't get me wrong….this is AWESOME when you're short of time and materials but want to make something non-naff. It's also great from a storage point of view – pretty much a flat pack DIY advent calendar!!
I've done this for two years running though, so I feel like a change. And I happen to have an idea brewing which I'll share later.
But, today I thought it would be fun to share with you these ideas for upcycling toilet rolls. Who knew such cool DIY advent calendar ideas could be put together using the humble old bog roll….???
1. Christmas Tree on the Wall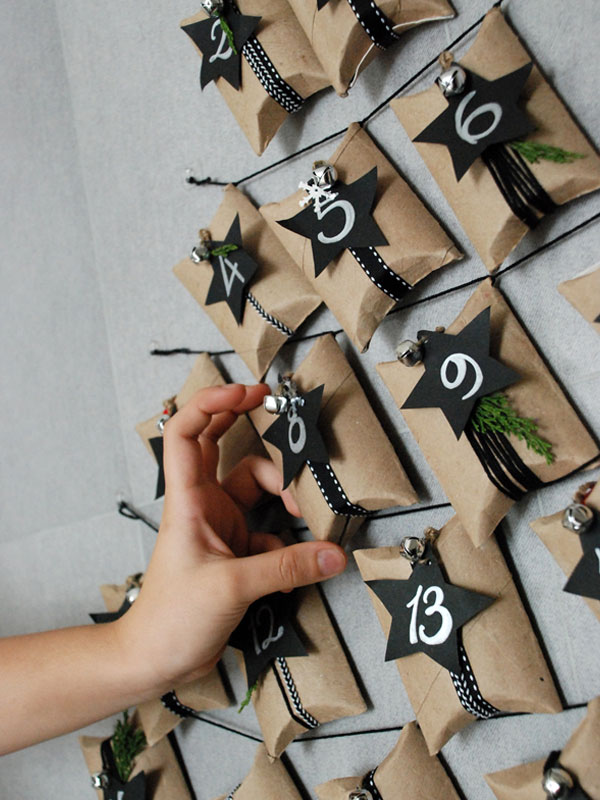 The first is by Rocio from her blog Casa Haus. It's super stylish and versatile with some great ideas on how you can present it depending on how much space you have. My favourite is the hanging Christmas tree but the basket is lovely too if you're short of wall space.
2. Toilet Roll DIY Advent Calendar House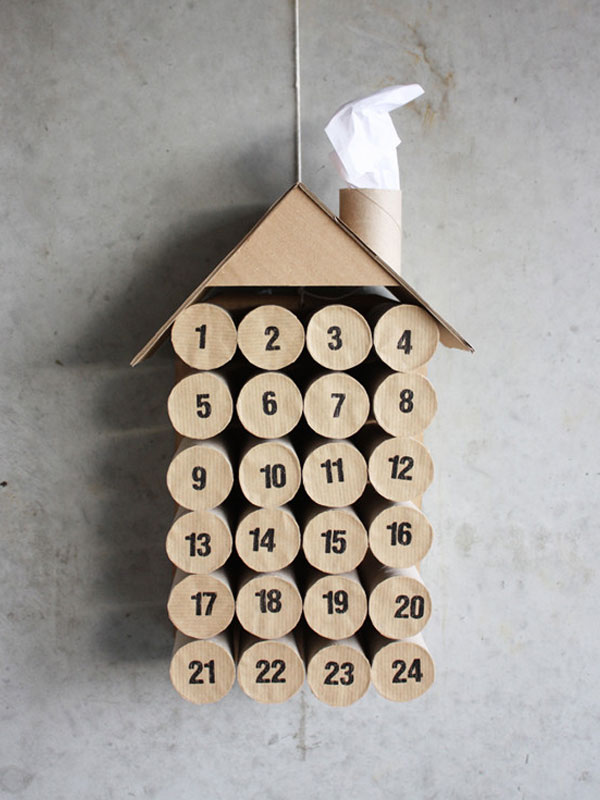 Kids will love this little advent house from Morning Creativity which comes complete with smoking chimney. Just pop the ends each day to find the gift within!!
3. Stylish Painted Hanging Christmas Calendar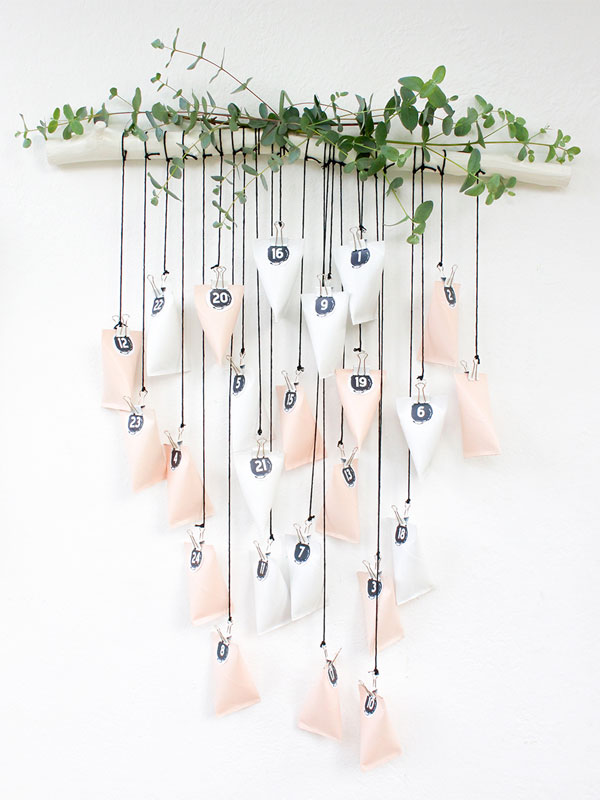 This is a gorgeous painted hanging calendar from Patrizia's blog LilaLiv. The inspiration for the parcel shapes came from her daughter, Liv, who made a rattle at school!! Choose whatever colours you like to match your theme and hang the pouches on a branch which could be painted (as shown) or left natural for a more rustic look. There is also a printable provided for the numbers.
4. Christmas Advent Parcels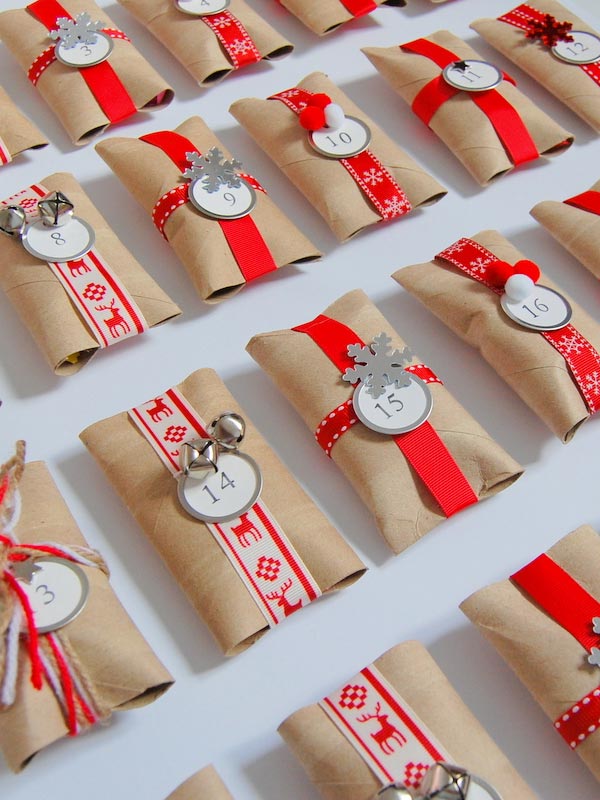 This one from North Story is lovely – and simple too. Blogger, Alex has used a stapling technique instead of folding to make their toilet roll parcels look more like kraft envelopes. The envelopes could be arranged however you like but Alex has stuck them on a board which makes a nice display. Cute eh…???
5. Cute Toilet Roll Santas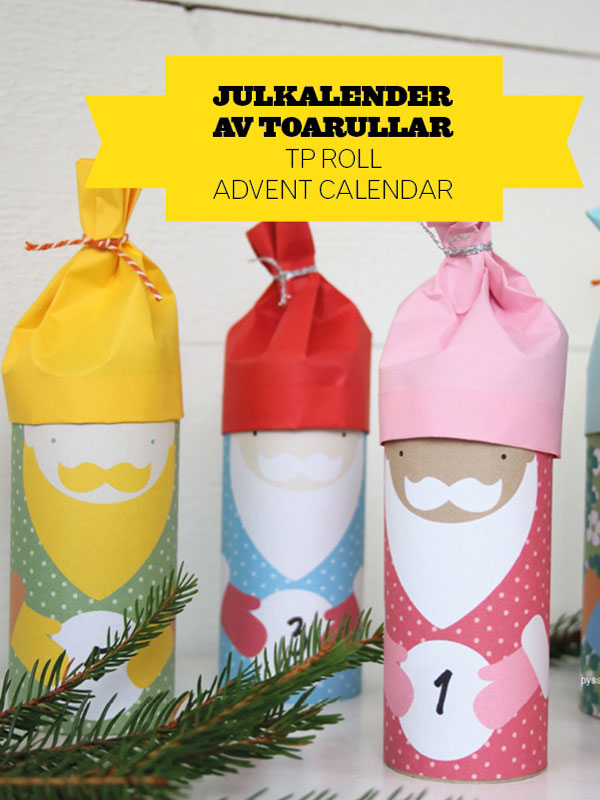 You could get the kids to help make this bright and fun calendar which is from The Crafty Swedes at Pysselbolaget. The hats make little lids which can be lifted off each day to reveal the treats inside. The instructions come complete with printable Santa Clauses too!!
I have managed to cobble together a handful of toilet rolls from the recycling but probably not enough for a whole advent calendar. So unless you are a roll collector or use a particularly large number of toilet rolls, a little forward planning is definitely beneficial here.
So…which one is your favourite…?? There's plenty of inspiration here for a simple yet stylish toilet roll DIY advent calendar. But Ssshhh…nobody needs to know that your beautiful creation has been made from toilet rolls do they…??!!