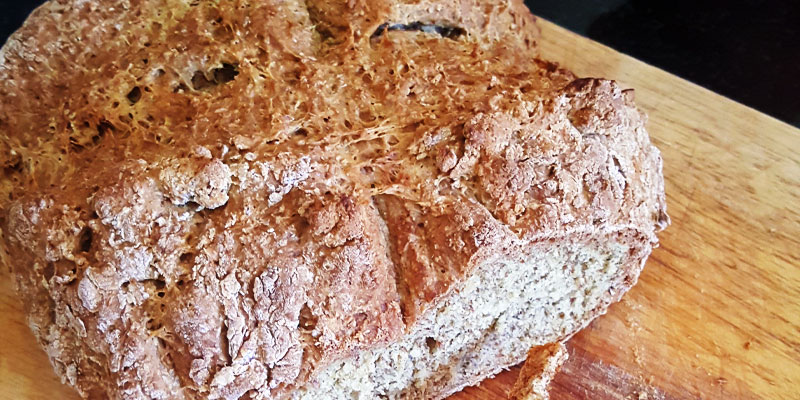 Lots of bread recipes call for yeast. They also 'need to be kneaded' and have long resting and proving times. This doesn't help when you want bread for lunch and there isn't any yeast in the store (thank you lockdown shoppers)…!!! If you can relate, this soda bread recipe can be your secret weapon.
This is a no yeast, no knead, no rise, no hassle soda bread recipe that you can bake in the morning and eat for lunch. It's quite rich and is perfect for toasting or dunking in soup. I've made this quite a few times during lockdown – it's been a lifesaver.
Ingredients
300g Wholemeal Flour*
200g White Bread Flour
2 tsp Baking Soda
1 tsp Salt
400ml Buttermilk**
Method
Mix your flours, baking soda and salt in a large bowl.

Add the buttermilk and mix until your dough just comes together; don't knead it too much!! You are not looking for a smooth dough.

Shape into a shallow loaf and put on a lined baking tray.
Score the top into quarters. Cut through the loaf nearly halfway to ensure it bakes all the way through.

Bake for 45 minutes at 200°c until the base sounds hollow when tapped.

Leave to cool for half an hour or so and enjoy warm with butter.

* You can use all white flour if you like, or any combo of wholewheat/white to make up to 500g
** If you don't have buttermilk, you can easily make your own. For this recipe, mix 400ml milk and around 2tbsp lemon juice. Leave it to sit for a few minutes and you'll see it begin to curdle. That's it!!

If you have a bit more time on your hands why not try our super popular Ciabatta Recipe..?? It's also easy peasy but requires a little more time. It's worth it though….